This website is under construction! Please call us at 301-299-6900 if you have any questions.
Welcome to Seven Locks Animal Hospital!
Seven Locks Animal Hospital is a full-service, companion animal hospital located in Potomac, MD. Our mission is to provide our patients with quality veterinary care through their entire lives. Our staff strives to achieve the highest standard of veterinary medicine by combining experience, technology, and implementation of the American Veterinary Medical Association guidelines. The hospital services include wellness/preventive care, dental care, medical care, intensive care, diagnostics, and surgery.
Our entire health care team is committed to providing personal attention to the unique concerns of each individual pet owner. Through a strong emphasis on education and compassion, we aim to serve as a partner and resource for our clients in caring for their companions. Each animal that visits Seven Locks Animal Hospital is treated as if he or she is our own because we understand the special place that every pet holds in their family. We hope to see you and your family very soon!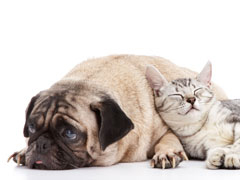 This site includes information about our practice philosophy, services, and staff. Additionally, you will find helpful forms and an extensive Pet Medical Library that you may use to search for additional pet health care information.


Thank you for taking time to read about our veterinary practice and the services we offer. We welcome your comments and suggestions.
Please contact us at (301)299-6900 for all your pet health care needs.